From 3 to 6 years old. 
In our International Diocesan Virgen De Gracia´ School of Granada, we put at your disposal the most innovative and fundamental methods for the education of your child in his/her early childhood.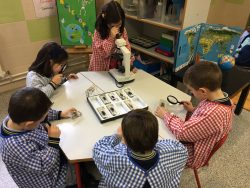 Our educational model introduced in Early Childhood Education
The semi-open system arose as a reaction to traditional and rigid forms of teaching and learning. For this reason, we intend to offer the child an opportunity to be in direct contact with their environment, freely experiment and learn by doing based on the respect and encouragement of each child according to their specific style of learning.
We are seeking an enriching educational diversity while looking for new methodologies and ways of doing. We create new resources and new techniques of relating among students themselves, teachers and the relationship with the educational community.
All projects of the semi-open system are immersed in the program of Multiple Intelligences, relying on different methodologies: Early Stimulation of Glenn Doman, Maria Montessori method and the global analytic-synthetic, power strips, Cuisenaire Rods…
In this Early Childhood Education School of Granada we help them to achieve your dreams.
You will learn in different spaces and environments in our Center for the Education of Young Children
We redefined the spaces of our center and create enabling environments for the development of each of the intelligences defined. At present, the Diocesan International Virgen de Gracia´School has sixdifferent areas of work and each is specialized in the main intelligences applied:
Area of language
Where we develop linguistic intelligence
Area of Role Play
Where we develop spatial and kinesthetic-corporal intelligence
Area of Logical-mathematical
Where we develop logical-mathematical intelligence
Area of Science
Our children will experience activities that will develop their naturalist, spatial, and kinesthetic-naturalistintelligences.
Area of Art
Where the bodily-kinesthetic intelligence, spatial and naturalistare developed.
Area of Motor Skills and Music
Were the students work to develop, space and the musical intelligence along with the body-kinesthetic intelligence
What do we offer to our students in this Early Childhood school of Granada?
"Learning by Doing"
It´s one of the pillars for our school and with great emphasis on the stage.Early stimulation and neuroscience form the basis of the techniques we employ.
Children at this stage are at the forefront of the development in the absorbent mind. We carry out activities in which children are interacting at all times with the environment and experimenting with the diversity of materials in each area of work.
Education Practice
We offer a practical education so that we focus our activities on the development of the skills and capacities, both deductive and inductive, of each one of the students by giving them what they need to achieve a promising future.
Learning Materials
We have the most advanced learning materials and adapt to allindividual the needs of each student. In the center, whatever the needs of the students are, we all come to similar learning objectivesregardless ofthe challenges and difficulties encountered. Because there are no incumbered children, children are not unmotivated or misguided in learning.