12 -18 Years old
In the International Diocesan Virgen de Gracia School  , Middle and High  School are  periods  of time where students acquire independency  and where so many changes happen. Students need the same attention as when they were 6 years old.
In our  Middle and High School from Granada we focus on our students last stage reenforcing competences they learned before looking forward their close professional future.
The Semi-opened system in Upper and Middle School.
The priority of the Semi-opened system in this stage is the active participation in society. At this age is very important  that adolescents' awareness about their spot in the world.
In this stage learning is based on a common project  giving our students the opportunity of exploring and understanding how society works.
Twelve to eighteen years old  students are in the maturity stage. Montessori compares this period with a new knowledge
Student is aware of himself considering the idea of being  the main actor of his personal relationship.
Student has changes of mood.
Student shows interest on social aspects, and starts to have his own  religious and patriotic ideas.
Students takes decisions on his own intelectual capacity.
Student investigates consciously.
Besides  the Thinking Rutines they already started to practice in Primary we encourage our students to have a Critical and Creative Thinking . Then new working conditions appear. Their mind becomes more humanistic and selective. This is going to build up their development.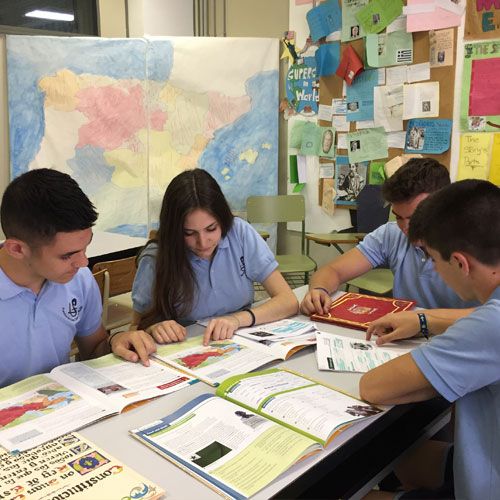 A vision of a successful future.
Through our educational model based on a Semi-opened system we achieve the full development of our students in our classrooms discovering at the same time their hidden talents and reinforcing their social habilities for the future
We work individually and in small groups in order to achieve that development. We also bet for autonomous people with self confidence, able to solve problems . People with concerns throughout their life.
Motivation is another important key.