6-12 Years old
The International Diocesan Virgen de Gracia  School in Granada welcome students  in their first educational stage . Elementary goes  from 6  to 12 years old and is divided into 6 formative school years  that encourage children to achieve Upper and Middle School.
The Semi-opened system in our Primary School from Granada.
The Semi-opened system includes a gradual and sistematic  transition where each child is different in his cognitive capacity, his own interests  and his way of working and learning.  In our School each child has the opportunity of self development  at his own pace  in an environment of collaboration, safety and respect. Students are in one of  the  Montessori developmental stage  where they start to think by themselves and where they work independentely.
As in the previous stage, they continue discovering  their environment  and themselves in a natural way . The level of difficulty increases gradually. All our students begin to reason those knowledges they acquired before.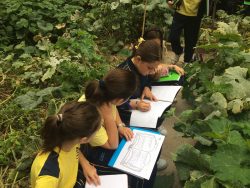 In our School each child has the opportunity of self development at his own pace in an environment of collaboration, safety and respect.
Important aspects of our Semi –opened  system in Elementary.
Children are willing to learn.
They develop their personality through active participation.
They accept rules previously  discussed in a group of students.
They reason what they learned.
Characteristics that belong  to a Semi-opened system in our Elementary School
We allow freedom of movement in our classrooms.
We have specific materials in each area.
We offer complete freedom to our students in order to choose in class the station they want. ( withpreviouswarm up time)
Teacher will be like  a mentor  who  presents different materials and activities trusting on children natural choices
We keep discovering hidden talents.
 We bet on  an experimental learning where we detect our students'  hidden talents on  each stage  In this way teachers, as mentors, could propose a personalized educational process  for each child. This helps  him to complete his own development and  achieve common objectives.
In this stage of growth ,  perseverance is one of the main values and each of our  activities  are  focused  on social habilities development with cognitive and  emotional contents, leading them to a successful future
 Going for a significant learning allows us to:
Keep up individual and collective learning.
Come up with meaningful activities.
Look afterdiversity.
Multiply their knowledges fostering their creativity
Develop interperosnal and intrapersonal habilities to promote a succesful future.
We thrive giving each of our students the opportunity to satisfy their potential in order to be a responsable, safe and balanced human being.